Add Region Blocking for your Broadcasters down to the Region level!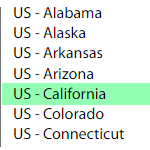 Now your broadcasters can block not only Countries but US, Canada and British Isles Regions. By blocking Regions, Broadcasters can keep anyone from viewing their profile, or Live Stream down to the Region level accurately, with a low cost monthly subscription.

Country Blocking is included with your OdysseyCam platform free of charge, having an additional layer of blocking gives piece of mind to your broadcasters.

Please Note: This feature is subscription based Only.