Credit Card Merchant Account

Exclusive for OdysseyCam Customers:  No setup fees, no yearly Visa/MasterCard registration fee, no weekly or monthly account fees, and a 5% Transaction Rate!
Your new Webcam website comes complete with a trusted processor: Cardbilling Payment Solution (Owned and operated by Verotel.com), with a Transaction Rate of only 5%. Since the average for a 3rd party Adult related merchant account start at nearly 14% to 16% + visa registration fees starting at $1000 per year, you are saving right from the start.
Simple to signup and get started, as OdysseyCam takes no percentage, this is "Your Merchant Account".  We handle all the merchant compliance process for Visa & MasterCard.
Generally most credit card processing companies are limited to allowing clients from, United States, Canada, EU, Japan and Australia, but not with us, we allow processing from most countries, check the drop-down below to see if your country is listed, if it is, we can provide you amazing credit card processing with no startup costs, and a low transaction rate (5%).
List of countries accepted:

Had a hard time getting a Merchant Account setup, or just haven't got a clue where to start? OdysseyCam will help you get your Cardbilling and yoursafe account setup, without the headaches!
Contact us for more information or visit Cardbilling.com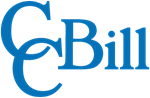 One of the most trusted credit card processors in the adult industry!
  Now you can add CCBill to your OdysseyCam system!

Consumer Trust: Consumers know and trust the CCBill name, for securing their payment data, and providing outstanding service. This level of trust provides instant credibility to your website or business and helps to remove hesitation when it is time to check out.
Business Automation: Automation is the key to ensuring maximum sales, happy customers, and smooth operations.
Growth Support: Designed to inspire new opportunities, CCBill can help empower your business dreams.