You shouldn't have to wait weeks to get your new website setup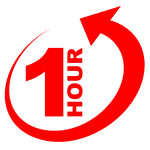 How about a 1 hour Setup?
We just think when you purchase a new online system you should be able to have it that day, so we took it one step further, an now offer a 1 hour setup service at no additional charge!
It can take several days or more to get your website approved for Visa/MasterCard, why make it longer? With 1 hour setup service we submit your website that very day!
In order to qualify to receive your website in 1 hour:
Your agreement has been signed and your payment processed.

You must have already purchased a domain and we have all your setup information.

1 hour setup service is for turnkey Editions only, the Developer Edition is not included.

*Please Note:  Your credit card merchant account can take several days or more to be approved and compliant, for more information please Contact us.