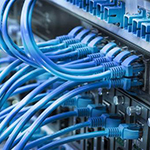 Dedicated Cloud Service – Network Upgrade
As part of our commitment to continuously improve our level of service, OdysseyCam"s Dedicated Cloud Service is now running on a state-of-the-art infrastructure with 10x more network capacity and full network redundancy.
The upgraded redundancy has also been applied to the power infrastructure. To provide you an even better connection to the world, we have upgraded our bandwidth capacity enabling 100Gbps core network from our Washington DC Data center.